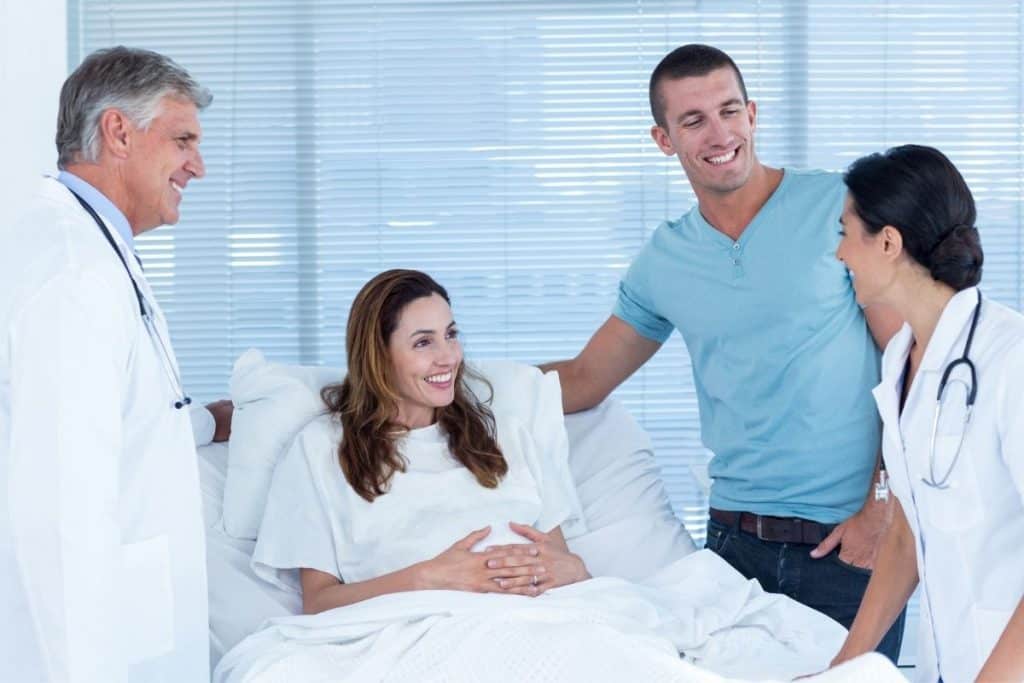 Pregnancy During COVID-19
Mothers are very aware of keeping their babies safe during pregnancy. During the COVID-19 pandemic, there are, simply put, more things to worry about. These worries can get overwhelming, especially with so much information in the news each day. Trying to sort through it can lead to more anxiety and stress.
To help, in this two-part series on Pregnancy during COVID-19, we aim to summarize what is known so far and to help give you resources to stay both informed and healthy.
Keep in mind that new information is available daily, and things we see as facts today might be replaced by new information tomorrow. In fact, you can count on it. Contact your OB or Midwife to discuss all your questions. For now, here's some of what is known, and what we recommend. The info below is accurate as of October 13, 2020.
First, there is good news:
The pandemic has been going on long enough now that your doctor's office and hospital have had lots of time to develop policies and procedures to keep you safe. That said, ask them specifically what they are doing to protect you, and what you should expect when you go to appointments, or to the hospital to deliver. It's a good idea to be prepared if you can only bring one labor support person with you, or if your partner can't come to your prenatal or ultrasound appointments. Find out if you can Zoom call during any appointments where you can't bring someone with you. Many hospitals are testing people for COVID-19 before they enter or as they enter. Ask your provider about this for your facility.
Providers throughout the world have now seen many cases of COVID-19, and know much more about how it affects pregnancy than ever. There is a lot of good news about it affecting pregnancy less severely than it could have when compared to similar viruses. For this post, we'll focus on being grateful for this good news. For more on the risks that are associated with COVID-19 and pregnancy, see Part 2 of this series.
It turns out, masks work! Wear them consistently when outside of your home to keep you safer. No matter what.
The social distancing and hygiene measures have been seen to have a positive impact on limiting the spread of COVID-19. While you are pregnant, be sure to practice social distancing, maintaining 6-foot distance between you and any people outside of your household. Washing your hands, cleaning surfaces frequently, and limiting outings and in-person social interactions while you pregnant will decrease your risk of infection.
The same factors that have always supported your health during pregnancy will also help you during the pandemic. Eating well, avoiding alcohol and drugs, getting good sleep, hydrating well, limiting sugar intake, exercising appropriately for pregnancy, and managing stress can all help your body to fight infection, and possibly improve outcomes if infection occurs. Double down on these things now.
With higher levels of stress these days, it is important to do extra things for yourself to keep it in check. Lowering stress will help support your immune system. Acupuncture, prenatal yoga, mindfulness, walking, being in nature, fresh air, laughing, being with friends and family, and massage can all reduce stress in meaningful ways. Do some of these each day to help manage your stress. And seek out counseling if stress or difficult moods are feeling overwhelming or hard to manage.
You are strong! We know that you want to do everything you can to keep you and your baby safe, and you can! Even during a global pandemic, there are things that are in your control to do to support your health. You can do the things above consistently and reduce your risk. You can ask for help. You can eat well. You can insist that your family and friends wear masks when you see them. You can do pregnancy-safe things to support yourself and still stay connected to your loved ones. We believe in you! You can be healthy during this time. Stay focused, follow the guidance of your Midwife or OB, and take this one day at a time. You got this!
In Part 2 of this series on Pregnancy Safety during COVID-19, we'll talk more about the specific risks associated with pregnancy in the pandemic. For now, focus on the things above and let us know how you are doing below.
Questions about Pregnancy During COVID-19?
At Portland Acupuncture Studio, we have three highly skilled acupuncturists ready to help you on your journey. Contact us today to see how we can support you both on the path to building your family. We are here to help you succeed.
Established patients can schedule online, patients who haven't seen us at Kwan Yin Healing Center call (503) 701-8766, or email us to schedule your appointment.