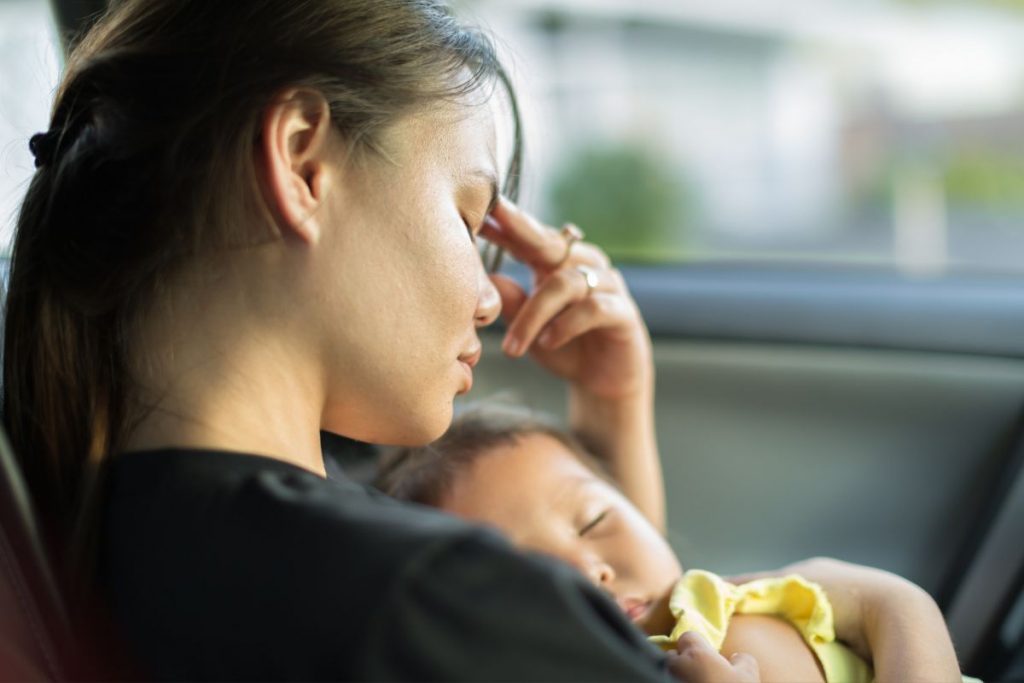 Improved awareness around the importance of mental health care has helped de-stigmatize postpartum depression and anxiety—and there is a lot available for new mothers seeking help for postpartum moods.
The Postpartum time can be filled with so many emotions as you bond with your newborn and adjust to a new schedule. You may have more emotional fluctuations due to hormonal changes, lack of sleep and stress from family or social pressures.
Getting Help for Postpartum Moods
It is so important to talk to someone as soon as you start feeling, or have an increase in, anxiety and depression, postpartum.
Along with therapy and talking with your provider about any needed adjustments to medications, Acupuncture and East Asian Medicine are effective in supporting stable moods postpartum. Acupuncture has been shown to calm the central nervous system, and enhances activity in the receptors for an increase flow of serotonin and dopamine in the brain, resulting in better moods.
Acupuncture is known to provide help for postpartum depression and mood fluctuations. A randomized controlled trial published in the Journal of Acupuncture and Meridian Studies found that acupuncture was effective in reducing postpartum depression symptoms in people who had a high risk of developing the condition.1
What to Except from Acupuncture Postpartum Treatments
When you come in for an acupuncture treatment postpartum, we will look at many elements which may be contributing to you feeling out of balance. One part of the treatment plan may be acupuncture and acupressure done at the ears.
The ear is considered a micro-system in East Asian Medicine, and can amazingly treat the whole body, especially the nervous system and brain. There are many points in the ear which help the body regulate stress, helping with anxiety and depression over time. 
Ear acupuncture is simple and is used in many settings to improve mental health. You can even go home with safe, painless acupressure devices in your ears to give you significant mood support in between your acupuncture sessions.
To support better moods, we often suggest coming in 1-2 times per week for acupuncture treatments at first, and then taper off as you began feeling better.
Here's a map of Ear Acupuncture points: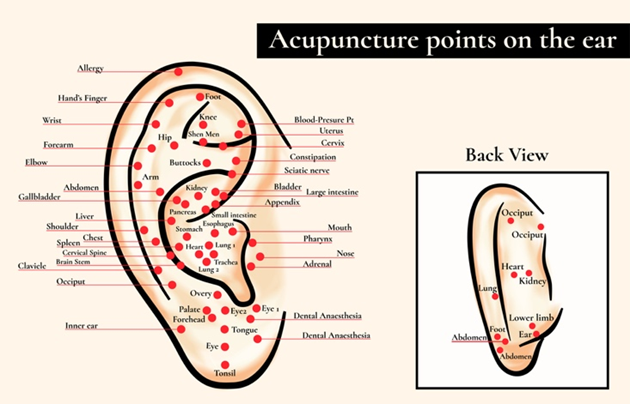 Read more about the effectiveness of acupuncture for Postpartum depression.
In addition to acupuncture, it is important to get many types of support if you are struggling postpartum.  To find a postpartum support group, please check our Postpartum International—they have many to choose from that can fit your new schedule.
We love supporting new parents!  If you are interested in learning more about how East Asian Medicine can support your moods during the postpartum time so that you can focus on your baby and enjoy your new family, please contact us.
Reference: Li, L., et al. (2018). "Acupuncture for the treatment of postpartum depression: A randomized controlled trial." Journal of Acupuncture and Meridian Studies, 11(6), 334-339.