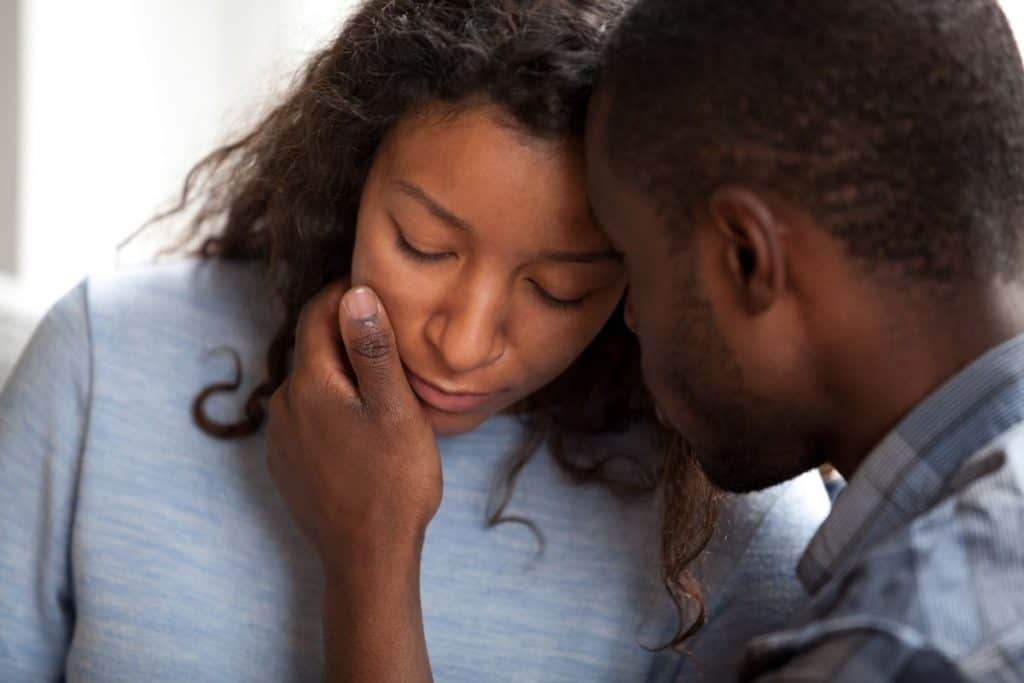 How Do You Recover From a Miscarriage?
Having a miscarriage is very painful, sometimes unbearably so. What can be even more painful is the isolation and confusion you feel during and afterward. Your medical provider is hopefully very kind during the miscarriage, but they often send you home afterward, saying simply "Take care, and let me know when you get pregnant again."
You're left alone in that big empty space of sadness and unknown: What do I do next? How can I heal? and How do I prevent this from EVER happening again?
5 Stages of Miscarriage Recovery
There is help for you during this painful time. There are things to know about the 5 stages to recover from a miscarriage that, if you recognize them, can help you heal faster. When you get the right support during each phase, you can fully recover and be ready to try again and have a healthy baby!
1. Caring for yourself during the miscarriage
When you learn you are having a miscarriage, it is heartbreaking. At the same time that you're trying to manage difficult emotions, you may also have medical options to navigate. At this stage, your main concerns often involve whether you need a D&C, should take medications, or should let it happen naturally.
Talk to your provider as much as you need to so you get your questions answered, and develop the best plan for your circumstances. Once your doctor has advised you of what's best, there are some steps to take.
No matter which medical option you pursue, you need to rest. Taking time off from work now will help your overall recovery. You can call in sick without any details needed. Then rest. Miscarriage can be painful, and sometimes the flow can be heavy and very crampy, so best to be home lying down with your heating pad for a few days. Be sure to talk to your doctor about pain management, and when to call them if your bleeding gets heavy.
Be kind to yourself. During this painful time, your body needs your support as much as your heart does. Stay warm, eat as well as you can – with some comfort food included for sure. Relax your body, watch your favorite shows, and rest. Talk to the people you trust to support you. Avoid people who may judge, lecture, or misunderstand. This is not the time to try to educate others. You need love and support right now.
Every person is different, but grief after a miscarriage is common and can be devastating. Some people get very depressed, which can be compounded by the hormonal changes. Again, reach out to your community for safe, affirming support regularly. If you feel that you need more help, seek out support from a mental health therapist familiar with pregnancy loss.
2. Dealing with hormonal changes
When your pregnancy ends abruptly, your hormones will change both suddenly and over time. Expect possible moods swings, pelvic cramping, sleep disturbances, digestive changes and, maybe, irregular bleeding for up to a few months. To deal with this roller coaster, continue with the kind approach from above. You likely will not be at your best right now, but it will get better. Keep the faith and stick with your self-care.
You can support your body to begin to regain balance by avoiding anything too stressful, like going to the DMV or disputing your bill with the cable company. Do what you need to do for your work and your household, but keep the rest of life simple. Create balance by eating regular, nutritious meals – nutrition is important and skipping meals will negatively affect your blood sugar and your hormones.
Protect your sleep! Sleeping very consistent hours is your best friend right now, and your best way through this nightmare. Continue to rest extra – keep those uplifting Netflix shows at the ready while you still give your body and mind a break. As soon as your doctor approves it, you can get back into light exercise to help support good blood flow and hormonal balance. Fresh air is good medicine, so walks are great too.
3. Getting your cycles back on track
Your period will take weeks and sometimes months to return after a loss. Cycles can be unpredictable for a while, and to some extent this is normal. Reach out to your physician if you haven't seen your period return in the time you expected. In the meantime, getting acupuncture in the first 3 months after a miscarriage can help cleanse your uterus as well as bring your hormones back into regulation. It is best to have 2-3 normal, healthy-looking cycles before you try again, so it's great to get support at this transition time.
Acupuncture treatments can help your periods to return to normal, and can help keep them regular. At home, you can use gentle heat on your lower abdomen and/or do some gentle clockwise circular massage for 10 minutes before bed to improve pelvic circulation. Eating well helps make new menstrual blood, and light to moderate exercise will continue to improve your pelvic circulation.
4. Getting ready to try again
When you have had 2-3 regular periods with fresh, red abundant flow (but not too heavy), your body is likely ready to try again. When you actually feel ready is up to you – you are the best judge of when you're emotionally and physically up for moving on. Don't rush it. Make sure you feel well-rested and that you have grieved enough that you can imagine moving forward.
Check-in with your doctor about how long they want you to wait before trying. Connect with your partner and loved ones to gather support and let them know you'll need a little extra from them as you get ready to try again. Continuing to get acupuncture during this prep time can help make sure that your body is balanced and ready to be pregnant again.
Keeping up with your good habits like eating and sleeping well, and doing moderate exercise will give your body great support. At some point, you'll know it's time. And even though you will be nervous, it will feel right to take that leap of faith into your future.
5. Getting pregnant again
Even if you got pregnant on the first try before, don't be surprised if it takes a few cycles after a miscarriage to become pregnant. Your body has been through something big, and it can take a few more cycles for it to be fully available for pregnancy. But keep trying, because it usually will happen within 3-6 months. (If it doesn't, go back and check-in with your doctor). Acupuncture is still very supportive for you during this time to help guide your hormones into a consistent rhythm.
And finally, there it will be – your positive pregnancy test! It's exciting, but also scary since now you know more about what can happen. Nervousness in early pregnancy is very normal after a miscarriage and can be supported very well by regular acupuncture treatments. Acupuncture is very safe in pregnancy, even in the first trimester, and can help you emotionally as well as support the strength of early pregnancy.
It will feel even more precious – and maybe, nerve-wracking – to be pregnant, so reach out for support from your community when you need it. Around 7-9 weeks, ask your doctor for an early ultrasound, which should be offered to you with your history of loss, to help reassure you.
Adopt a mindfulness practice to help you through the tough or anxious moments. And be ready to celebrate when you make it to the point in pregnancy where you feel more confident. Congratulation!
And all throughout your pregnancy, acupuncture can continue to support you and your body so that you can, at last, meet the baby you've longed for!
Learn more and schedule an appointment
At Portland Acupuncture Studio, we specialize in treating people with fertility challenges and those who have experienced pregnancy loss. We use the powerful tools of Acupuncture and East Asian medicine to support your health so you can be successful in your family-building goals. Contact us today to see how we can support you both on the path to building your family.  We are here to help you succeed.
Established patients can schedule online, patients who haven't seen us at Kwan Yin Healing Center call (503) 701-8766, or email us to schedule your appointment.